Shiga Highland (Shiga kogen)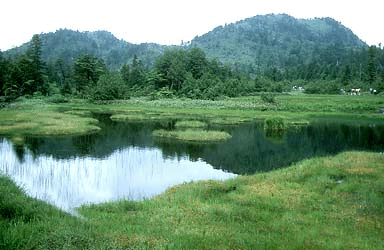 Shiga Highland is situated in the northeastern region of Nagano Prefecture and forms a part of Joushinetsu National Park. It is an uneven plateau of 1400m to 1700m high, originated from a lava stream coming from Mt Shiga. Surrounded by mountains of about 2000m high, it offers a changing topography with many ponds, lakes and swampy plans rich in Alpine flowers. Not only there are many hot springs but it is one of the most oldest and biggest skiing resorts in Japan. During Nagano Olympic games of 1998, the contests of slalom and giant slalom as well as snowboard were organized there.
Click here to get more web sites on Shiga kogen.

---
Panoramic View of Higashitate-yama Ground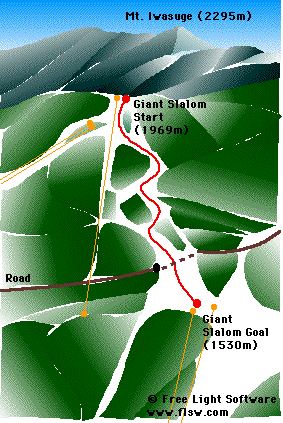 Shiga kogen skiing resort is formed of 22 small grounds connected between them, so that its skiable area is the largest of Japan. It is reputed to have the snow of a relatively good quality compared to its latitude, because many paths are reaching 2000m high. The giant slalom is taking place in Higashitate-yama ground while the ski slalom and the snowboard giant slalom are taking place in Yakebitai-yama ground. Finally the tiny ground of Kanbayashi, specially fit out for this occasion, will organize "halfpipe" of snowboard.


Slope specifications
| | | |
| --- | --- | --- |
| | Giant Slalom Man | Giant Slalom Woman |
| Start point | 1969m | 1923m |
| Goal ponit | 1530m | 1530m |
| Vertical drop | 439m | 393m |
| Total length | 1487m | 1329m |
| Average gradient | 17.3° | 17.3° |
| Maximum gradient | 30.9° | 30.9° |
| Minimum gradient | 5.7° | 5.7° |
---
Panoramic View of Yakebitai-yama Ground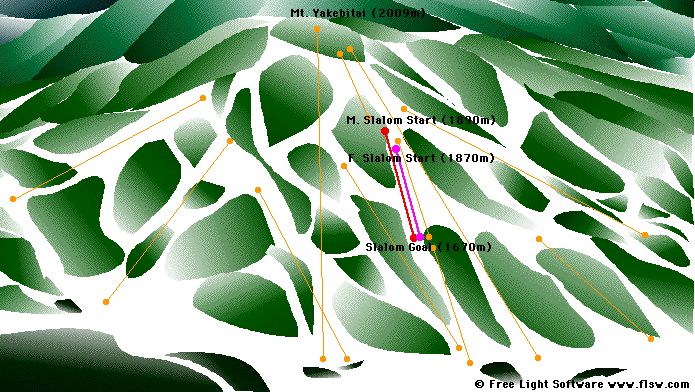 Slope specifications
| | | |
| --- | --- | --- |
| | Slalom Man | Slalom Woman |
| Start point | 1890m | 1870m |
| Goal ponit | 1670m | 1670m |
| vertical drop | 220m | 200m |
| Total length | 607m | 530m |
| Average gradient | 21.3° | 22.2° |
| Maximum gradient | 30.1° | 30.1° |
| Minimum gradient | 14.9° | 15.5° |
---


---
www.hikyaku.com/nagano/shigag.html
Photo Copyright, Kako
Last update: October 11, 2007
Text Copyright, Free Light Software